Top 10 SPSG Stories in 2018
Posted 12/27/2018 11:00AM
Dear Members of the SPSG Community,
There were many fantastic stories at St. Paul's School for Girls this year. As we prepare to welcome 2019, join us in taking a look back at 10 of those stories from 2018.
The St. Paul's Schools Unification Ensures Continued Success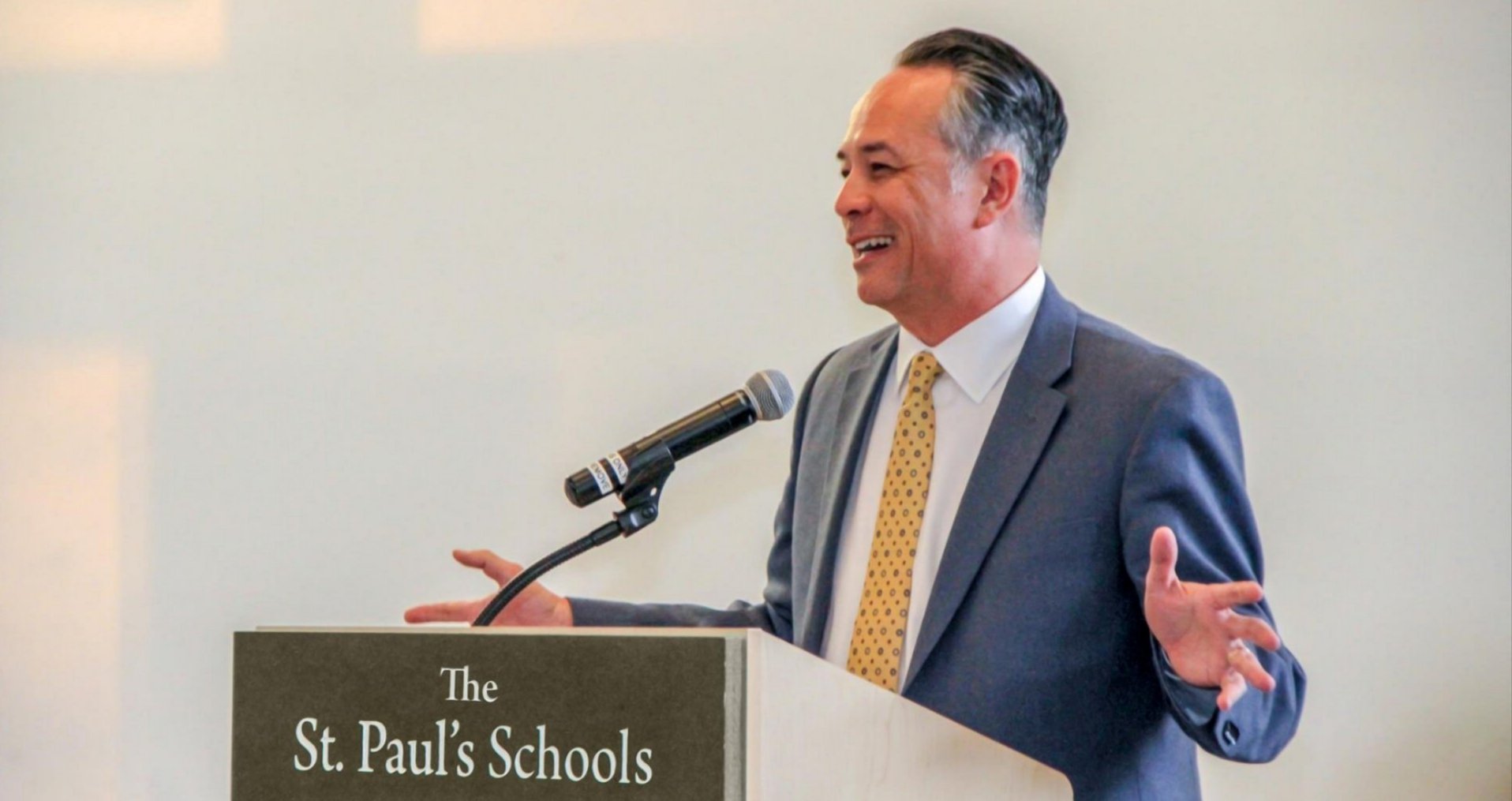 In the summer of 2018, the Boards of Trustees voted to unify our governance structure, allowing SPSG, St. Paul's School, and St. Paul's Plus to better share resources and more closely collaborate ensuring the continued success of our Schools in a highly competitive and ever-changing independent school landscape. In December, the Board of Trustees of The St. Paul's Schools announced the appointment of Dr. Jefferson Huang as the Schools' inaugural president. Selected for his reputation for innovative and ethical leadership and extensive experience as an administrator and a teacher, he has the breadth of skills needed to guide The St. Paul's Schools into the future.
The Class of 2018 Graduates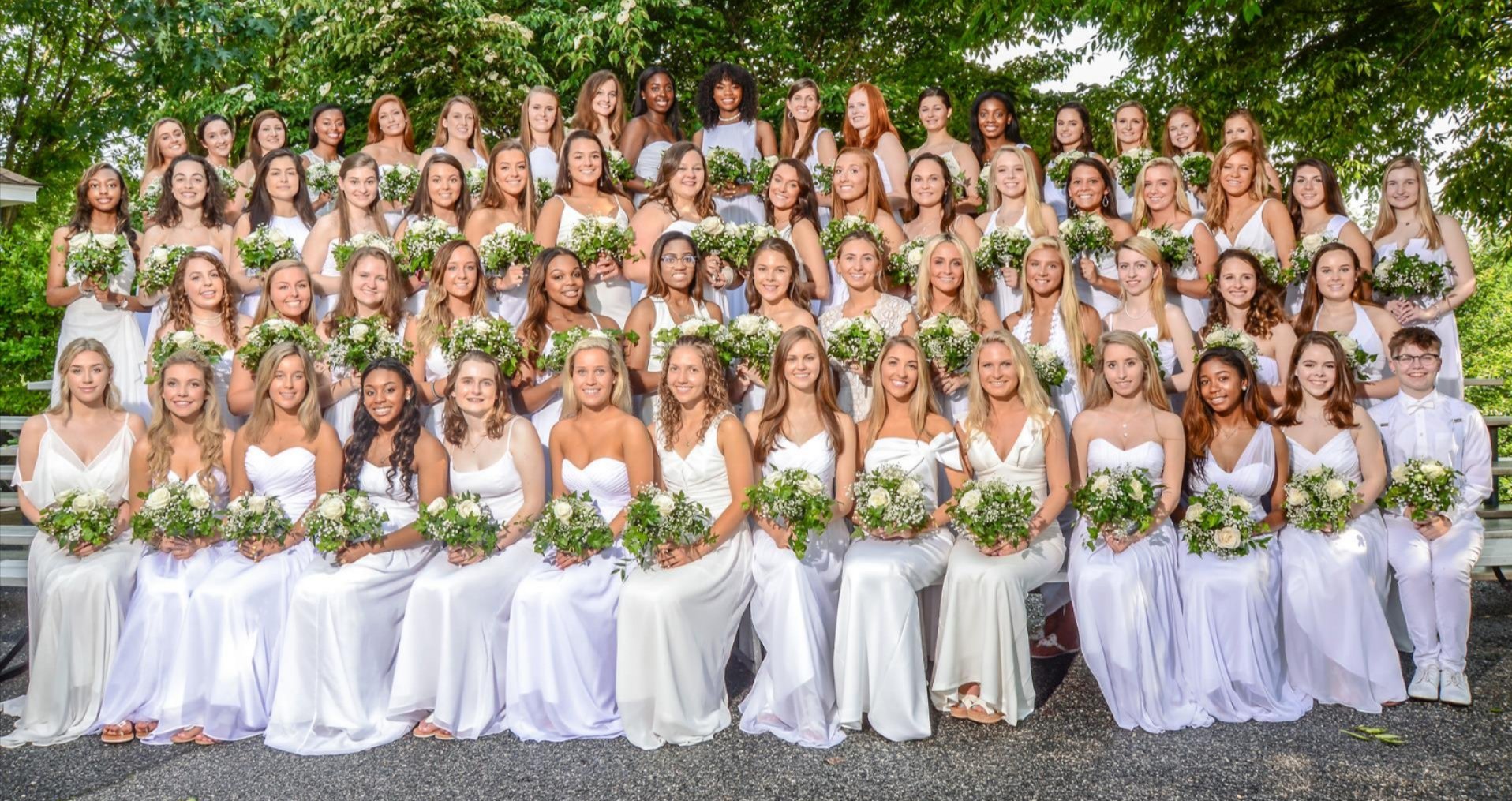 On Saturday, June 9, 2018, the 63 members of the Class of 2018 graduated from SPSG. These women were accepted into 130 different colleges and universities, and they are currently attending 51 institutions in 12 states and the United Kingdom, as well as one senior taking a gap year. Sixty-eight percent of the Class of 2018 earned scholarships and honors. While at SPSG, they graced us with their many accomplishments, including 5,760 hours of community service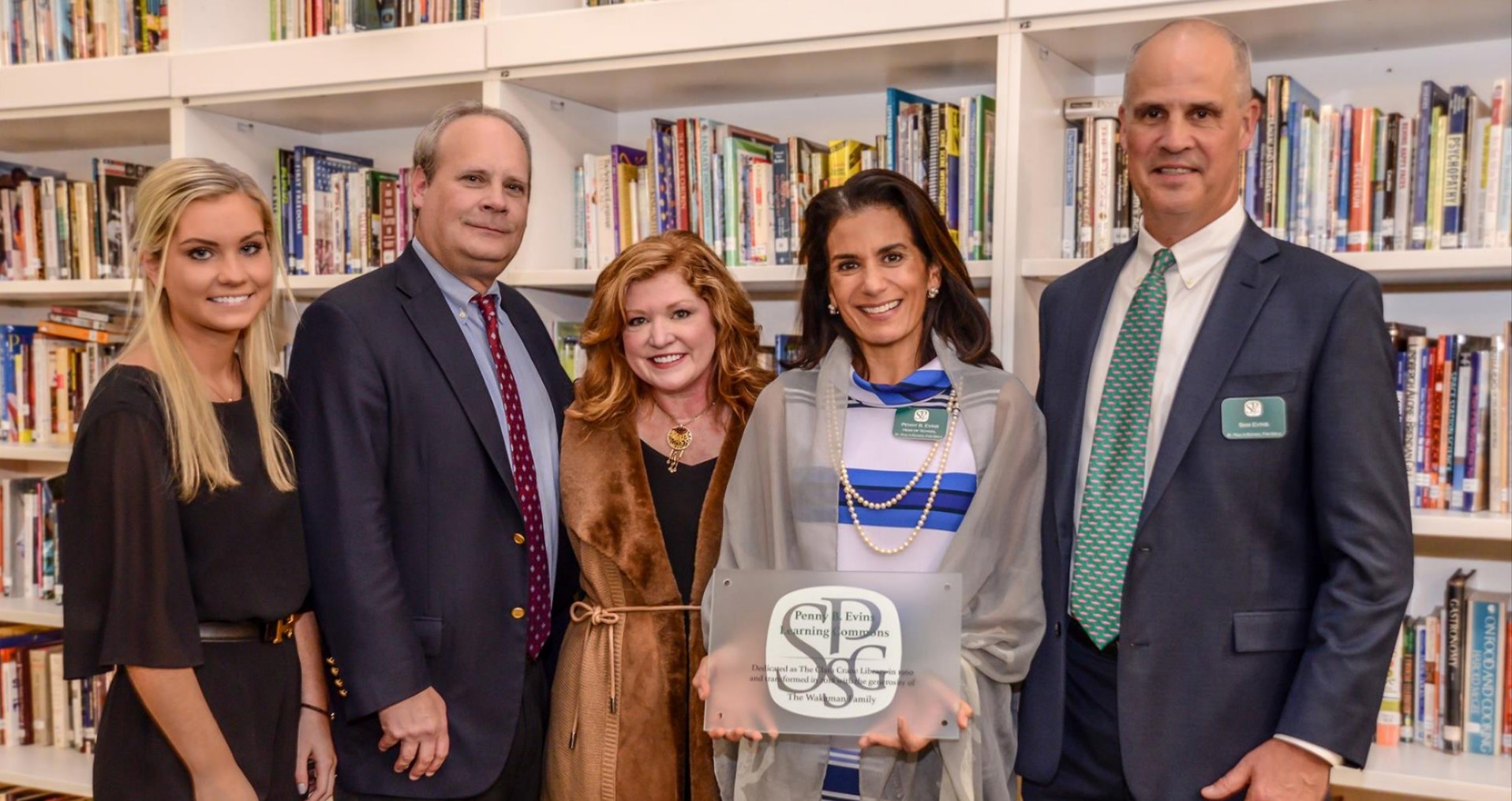 In October, I was incredibly humbled by the formal dedication of the Penny B. Evins Learning Commons, a dynamic new learning space made possible by a generous gift from John and Barbara Wakeman P '19. Originally dedicated in 1960 as the Clara Crane Library, the Learning Commons was transformed this past summer from a traditional library to a modern academic hub. In partnership with alumna Michelle Hooper '80 and the architecture firm Marshall Craft Associates, a design team created a shared learning space where ages and disciplines come together without the silos of walls and artificial boundaries to study, create, and collaborate. The SPSG community is indebted to the Wakeman family for their generosity and eagerness to make this shared vision a reality.
Experiential Learning Throughout
Baltimore and Beyond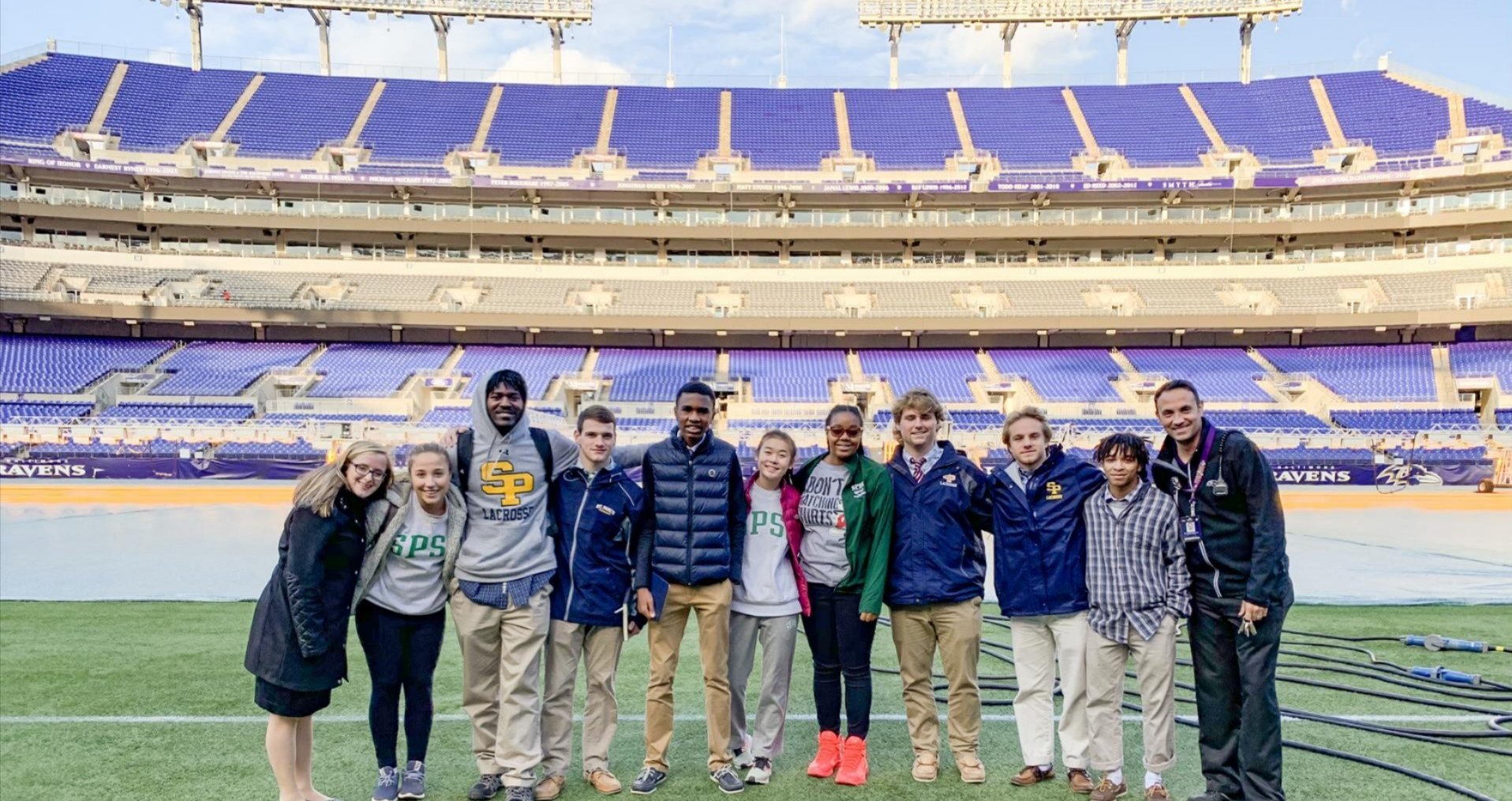 In addition to active learning within the classroom, students in both the Middle and Upper Schools have had numerous opportunities to continue their education beyond the SPSG campus this year. SPSG's coed Design Thinking class partnered with both The Maryland Zoo in Baltimore and the Baltimore Ravens, providing opportunities for student input on modern animal conservation and the Ravens guest experience, respectively. Our English department welcomed the Baltimore Shakespeare Factory to classes for interactive interpretations of Shakespeare's texts, and Middle School Minimester students walked in the footsteps of Frederick Douglass with the Maryland Historical Society. Several Upper School students explored careers in sports medicine at Towson Orthopaedics and in interior design at Maryland Design Center. The St. Paul's Schools are the first high schools to partner with the Eisenhower Institute at Gettysburg College for The Price-Eisenhower Civic Engagement Institute, a competitive program which engages student fellows in presidential and congressional decision-making and encourages civic engagement.
Visiting Artists Share Their Craft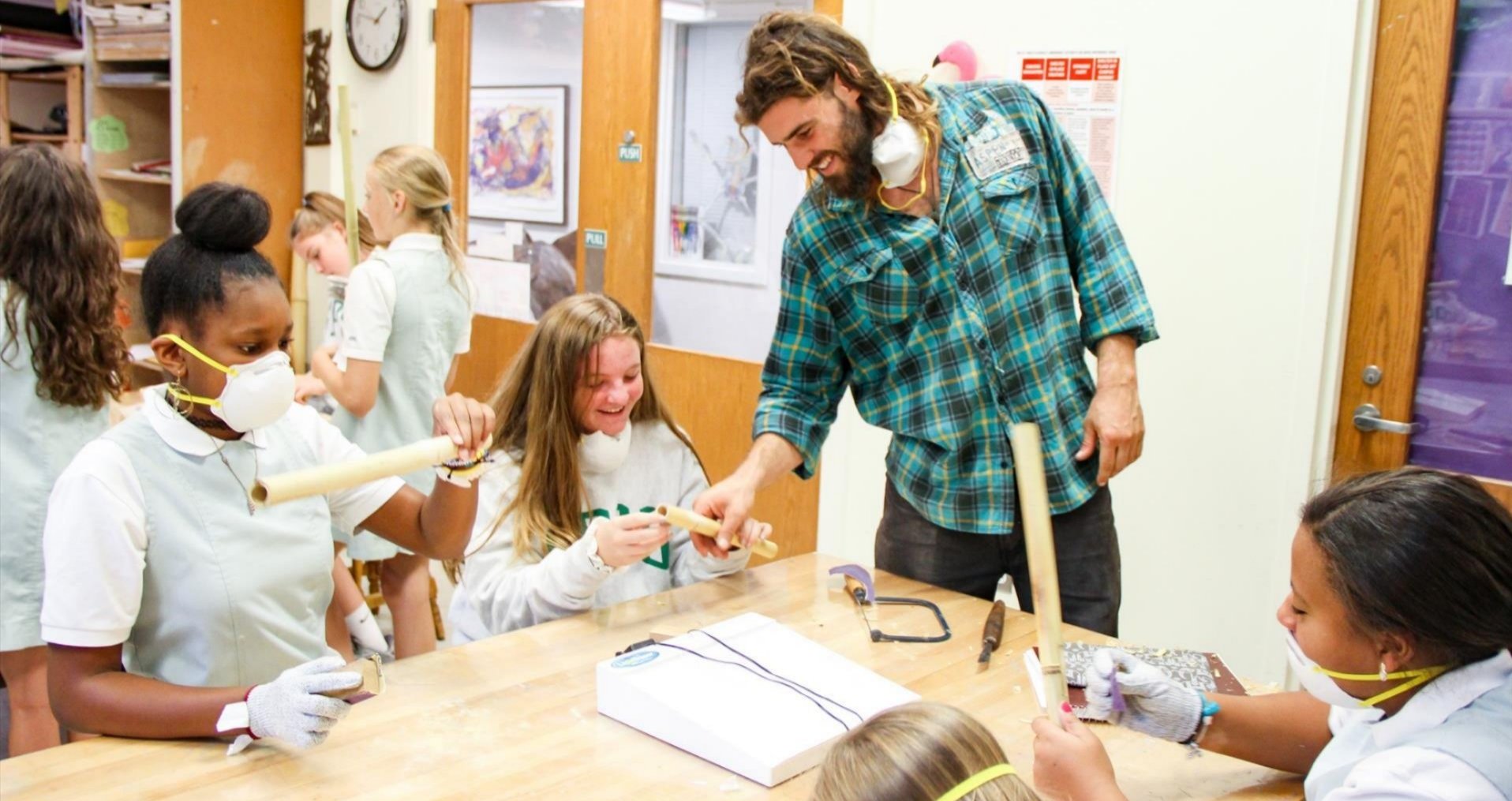 Students at The St. Paul's Schools have benefitted from working alongside several guest artists and professionals this year. Visual arts classes completed a week of instruction with artist Francis Tanguay, who visited campus from Québec and taught students to construct digeridoos, flutes, and other playable instruments from wood. Inertia, our coed advanced dance company, welcomed Darius Barnes, whose credits include NY City Ballet, Susan Farrel Ballet, Dance Theatre of Harlem, Memphis: The Musical, Charlie and the Chocolate Factory, Spider-Man: Turn Off the Dark, and Cinderella, in addition to the revival of Kiss Me, Kate and the new Michael Jackson musical, as a guest choreographer for our winter dance concert, New York, New York! Inertia was also thrilled to meet and hear from Misty Copeland, American Ballet Theatre principal and star of Disney's The Nutcracker and the Four Realms, at an event where she spoke with aspiring dancers. Theatre and technical theatre students had opportunities to see performances and meet cast members at Everyman Theatre, Single Carrot Theatre, and the Chesapeake Shakespeare Company.
Athletic Success for the Green & White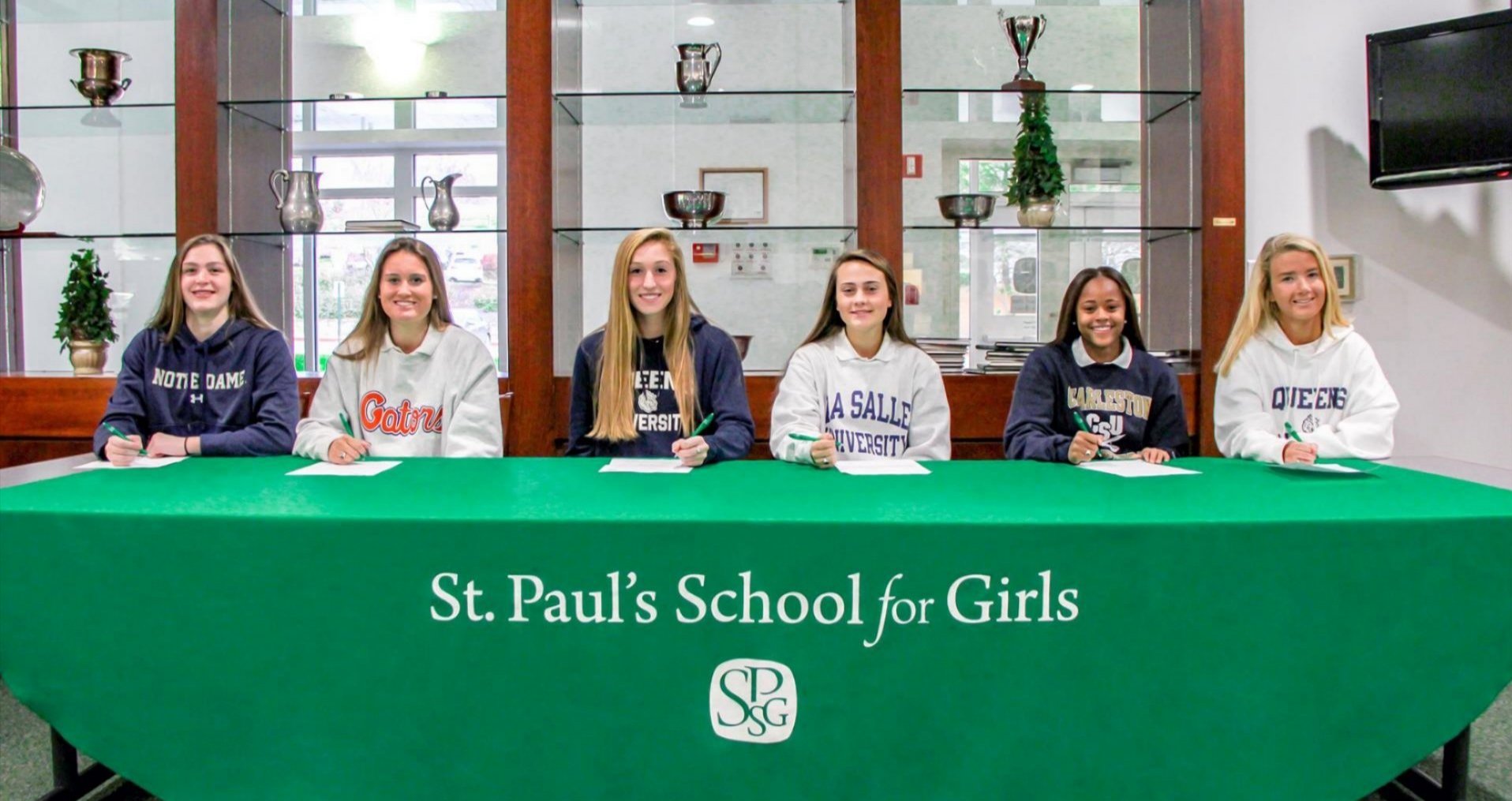 Two Gator teams won championship titles in 2018. For the second consecutive year, the varsity indoor soccer team took home the IAAM "B" conference championship. The varsity badminton team won the IAAM "B" conference championship in the spring, and our varsity volleyball team advanced to the IAAM "A" conference championship game for the third straight year, completing an impressive three-year record of 29-7 under Coach Kelli Wilkinson. This fall, six members of the Class of 2019 formalized commitments to become NCAA-student athletes.
SPSG Secures $200,000 in Support of
SPIRITUS Scholars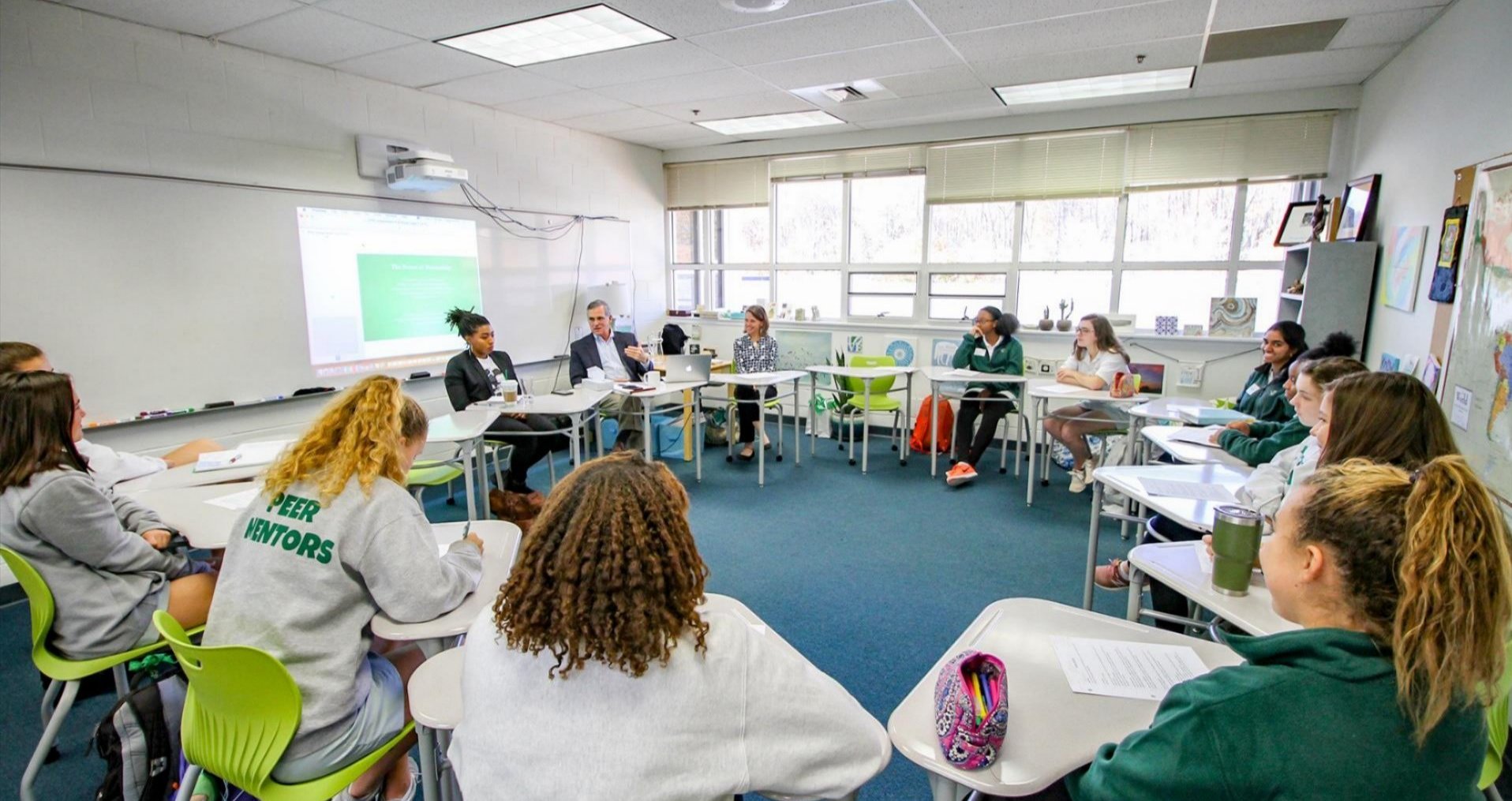 In June, SPSG secured the Edward E. Ford Foundation matching grant, raising a total of $200,000 to support the SPIRITUS Scholars Program. This year, students in the two-year exploratory research program have already impacted the school community and beyond through their research, from instituting Meatless Monday in the Gator Café, to working cross divisionally with Middle School Life Skills classes, to expanding their innovation skills with alumna Kate McShane '78, Placement Director for Project JumpStart. In addition, the program has welcomed several influential guest speakers to campus, including Alex Fisher, Co-founder of BMoreAg, and cultural anthropologist Tracy Rone from the Institute for Urban Research at Morgan State University.
Twenty-Five Years of Global Partnership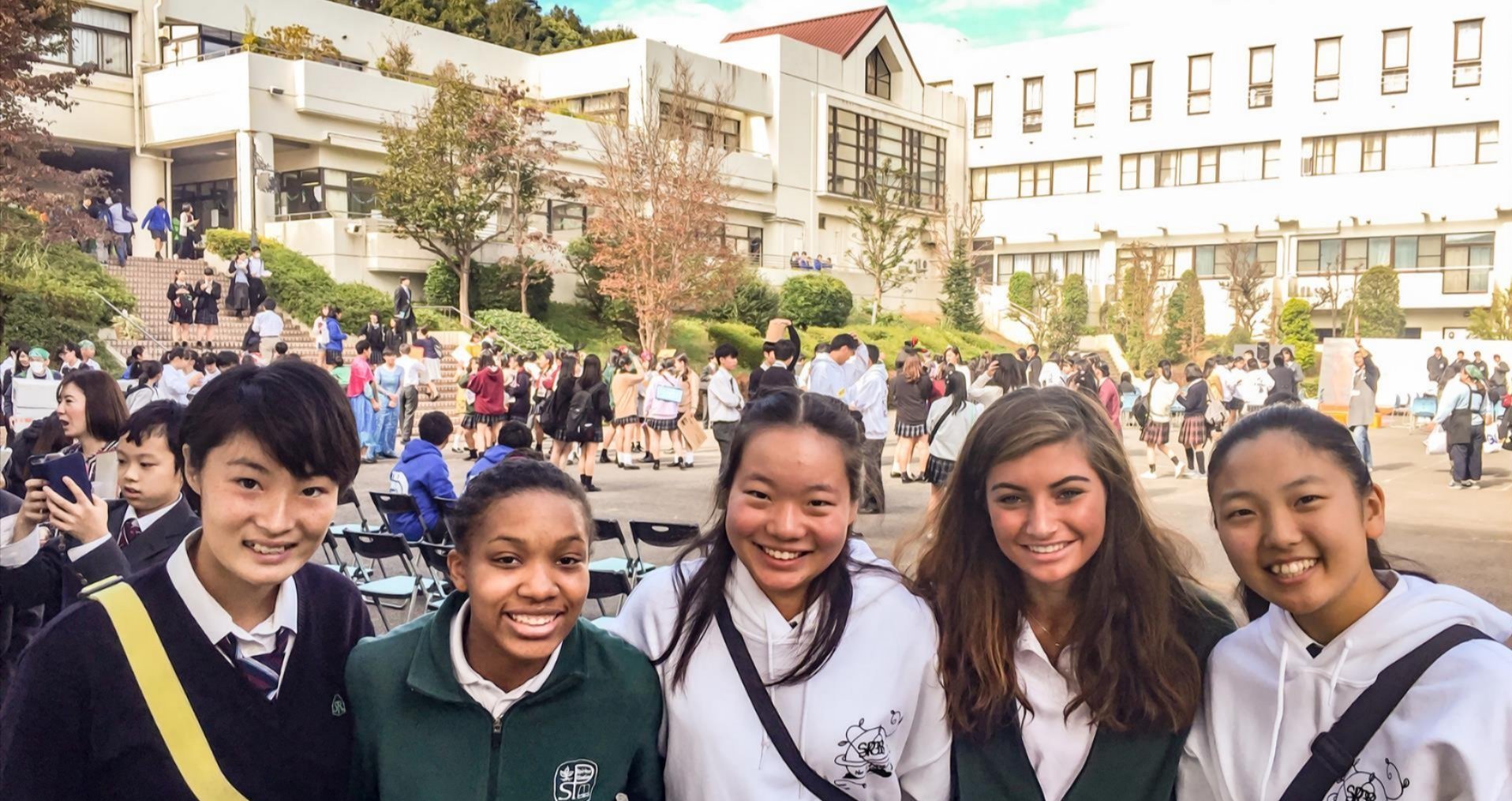 This year marks 25 years of partnership between SPSG and Suiryo School, our Japanese sister school. Ms. Maki Okamoto, or Okamoto Sensei, and two Upper School students who study the Japanese language traveled to Yokohama, Japan in November where they gave a speech in Japanese at a celebration to honor the anniversary. While in Japan, the students had the opportunity to sightsee, attend a tea ceremony, and visit the biggest event of the year, Bunka-sai, a student-led school festival. SPSG is proud to offer nine global partnerships and exchanges in coordination with St. Paul's School, providing students with opportunities to develop cultural-fluency skills and create connections and opportunities for life.
Team SPSG Celebrates Third Consecutive
Top Workplace Honor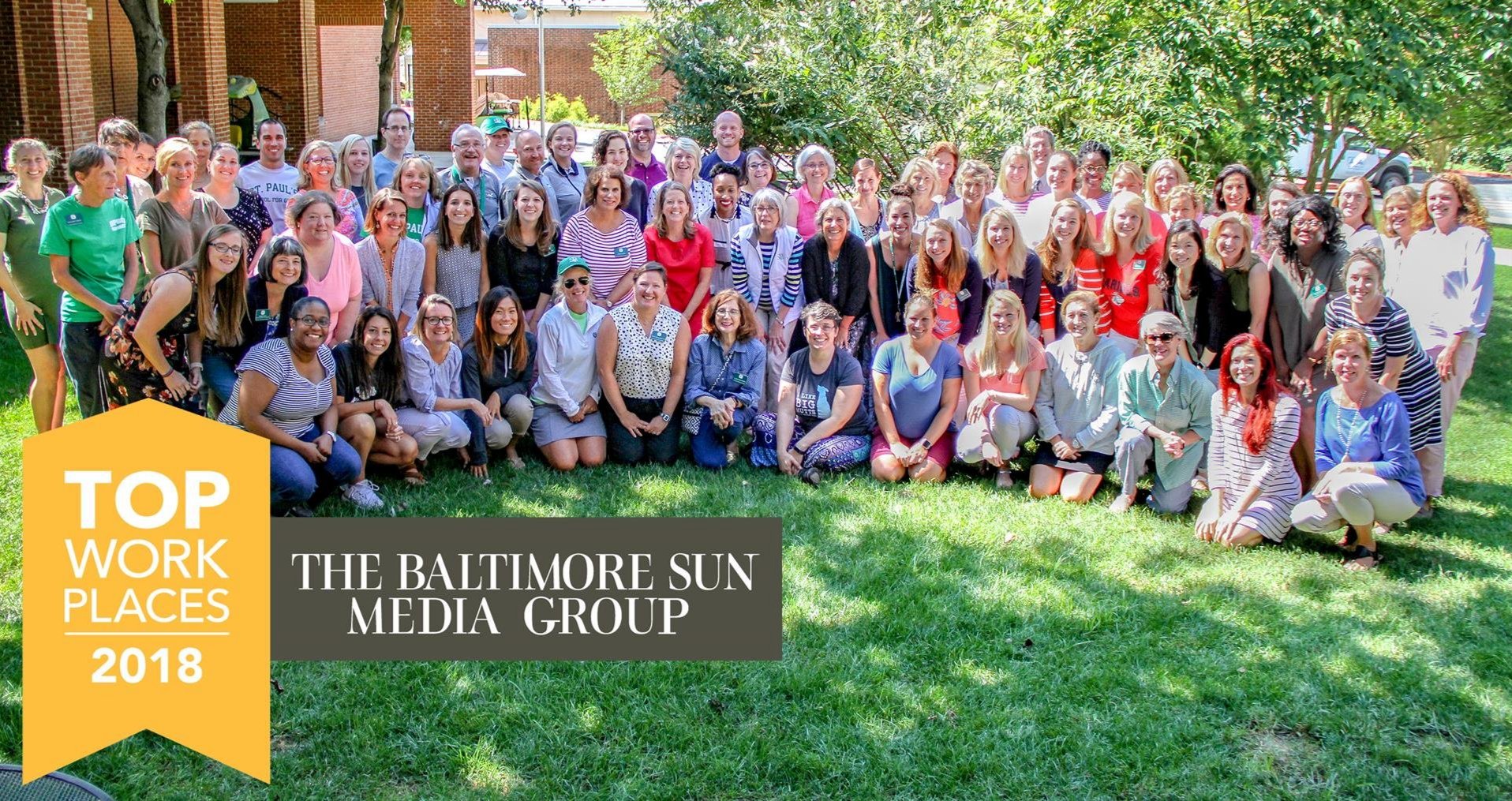 SPSG has been awarded a Top Workplaces honor by The Baltimore Sun for the third consecutive year in the small-sized business category, signaling the strength of our SPSG community. The Top Workplaces lists are based solely on the results of an employee feedback survey administered earlier this year. We are honored that our faculty and staff continue to share their positive sentiments and celebrate those with whom they work each day.
SPSG Has Never Been Stronger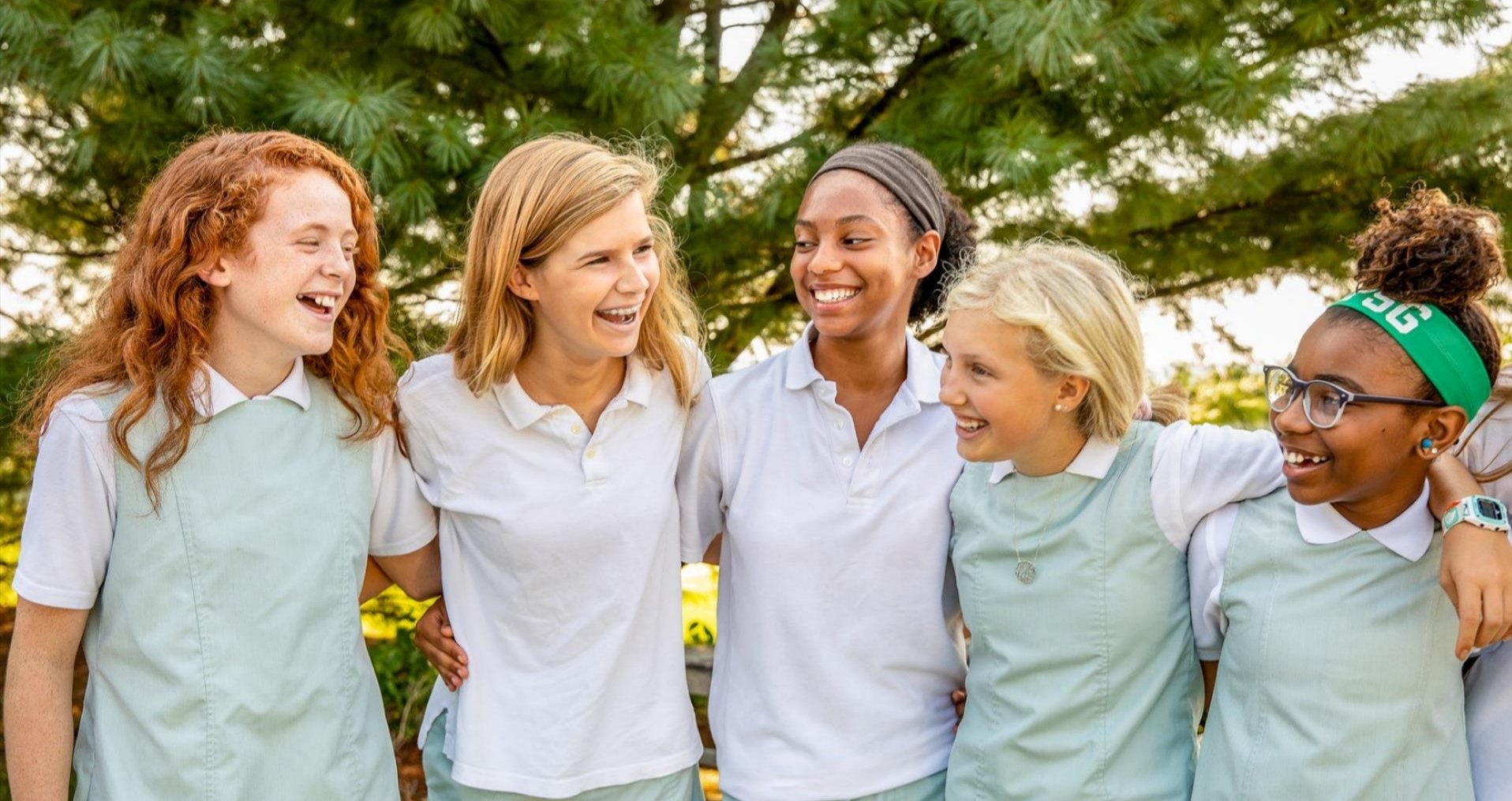 Our community had an incredibly strong year. After another successful admissions season, we began the 2018-2019 academic year with 446 students, a steady, annual increase from 404 students when I joined the SPSG community in 2013. The Gator Fund yielded similar success with an increase in both parent and alumnae participation thanks to our dedicated volunteers. A total of 1,011 donors contributed more than $760,000 to The Gator Fund for 2017-18. In October, the entire community came together on Gator Day to benefit our students and faculty. In addition to raising a record breaking $290,229, we fulfilled the Leadership Challenge of $15,000, securing 17 new leadership gifts, five of which were from young alumnae.
On behalf of St. Paul's School for Girls' students, faculty, and staff, we thank you for making 2018 such a memorable year. We look forward to more great stories in 2019!

Sincerely,
Penny B. Evins
Head of School